First of all, why am I writing about this? Well to put it simply, because after having used it, I just think it's great. I didn't plan on buying a solar panel at all. Actually I was looking for a small external microphone to carry on the body that can connect with my camera. One of the guys in my local camera store in Graz is, like all who work there, a little gig when it comes to travel gear and as I also brought up the issue of being able to charge my camera when in the wild or bring enough additional accu- power to close the gap between recharging stops at guest houses or hotels, he told me about one of his latest personal purchases which was a solar panel. So we started talking about it and I ended up buying one. Not the biggest size as I decided to keep my additional baggage weight to a minimum (I already had too much..;) ) but still good enough to charge your phone, or a power pack, or your tablet, or your camera and audio tools.
It actually took me some time until I tried it out for the first time, but still I have to say I'm thrilled by the performance those two rather small and light weight solar panels put to display. Not only did they work in bright sunlight. No, those two beauties even worked on slightly overcast days inside the room just simply lying flat on the ground or the table half a meter next to the window. Obviously the output wasn't as good as placing them in bright sunlight in the correct angle, but still it worked and charged everything that I ever needed. Meanwhile I use them to charge my gadgets, which I need for my work, even if I'm in a room with functioning power sockets. It might not be much, but still it's something… some small amount of power that I don't have to take out of a global power generation system that struggles to keep up with the worlds needs anyway and at least partially uses some questionable technology, like nuclear power for instance, doing so.
So apart from creating independence from public power supply, it also reduces the strain on it, however marginal that might be.
I do believe, that slowly over time we can solve many current global problems by more and more people becoming more and more self sustained in different aspects of their lives.
So more about the device:
Dimensions: 16,5 x 24,1 x 2,5 cm (closed)
Weight: 454 g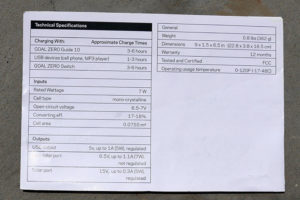 It comes as a foldable setup of two solar panels that are built into a strong durable fabric. There are small shackles attached at every corner and one in the middle of the flap lid, so it's easy to hang it with carabiners or additional short laces, or even hang it directly on small edges of a stone.
On the rear a small net bag is attached in which you will find the plugs and adaptors for different kinds of devices to attach. This bag is just big enough to hold an additional cable, USB converter, power pack, and even some additional rechargeable batteries if needed. It's quite ease to use without any switches, which nicely adds to its durability. So to activate it just attach the device you want or the power pack, or the power pack and the device you want to charge (so split charge is possible!!), flip it open and place it in the light. Et voila it's working already. The great thing is, that if for whatever reason you need more power you can get either the bigger version with three solarpanels built in it, or, you can actually combine your GOALZERO NOMAD 7 with other GOALZERO Solarpanels!!
About how and were to place it: Well like all solar panels that are currently on the power output increases as soon as the solar panels are roughly in a 90° degree angel to the rays of the sun. If you use it at a flat angle the output decreases. Also windows will decrease the power production by a little. But as I mentioned before it's still impressive what this device can do even if not placed perfectly.
As the packing size, the power output and the durability are great I can definitely recommend to get one of these if you are thinking about how to solve your power issues when on your way in remote areas. Even if you don't walk through the dessert it's a small and not really expensive tool that will add perfectly to your toolbox for a more self sustained lifestyle. If the question pops up, well why do I need electricity at all when living self sustained, well that's something to be discussed in an other article.